TELECOMS MESSAGE: 5G+AI = a silver bullet – a solution to all our societal and environmental problems. The ingredients fuel tomorrows tech innovations AND energy efficiency.
OUR MESSAGE: 5G INCREASES NOT DECREASES CARBON FOOTPRINT.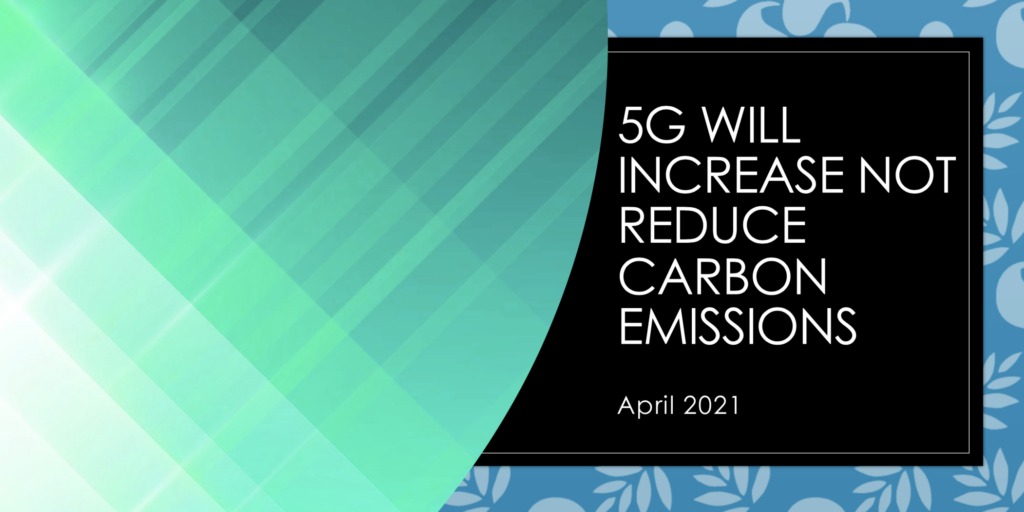 MORE SPEED = MORE DATA = MORE INPUT OF ELECTRICITY = MORE OUTPUT (OF CARBON EMISSIONS)
Sustainability and the Planning System
Energy Use & Carbon Emissions
Trees, wildlife and health
Extraction of Resources and Disposal of 5G related Tech
1. Sustainability and the Planning System
A major purpose of the planning system is to contribute to the achievement of sustainable development. There are three dimensions of sustainable development, each of which give rise to the need for the planning systems to perform a number of roles:
Economic – contributing to building strong, responsive and competitive economy

Social – Supporting strong vibrant and healthy communities

Environmental – Contributing to protecting and enhancing our natural, built and historic environment.
Government is seeking to make it very easy for 5G masts to get the nod for their deployment without public involvement. By doing this they are going against the 3 dimensions of sustainable development.
2. Energy Use & Carbon Emissions
5G uses many times the power of 4G
According to Ofgem for 2020 (a year mostly in lockdown) the average electricity use for ahousehold is 2,900 kWh per year. Huawei puts the power requirement for a 4G base station/mast as 6.877 kWh. Conservatively put, 5G would use 2.33 x 6.877 = 16.023kWh x 24 hours for 365 days =140,365 kWh per year. Or the equivalent of 48 homes.
5G uses a technology called Massive Multiple Input and Multiple Output (Massive MIMO). One reason for this is that part of 5G's range of frequency is more susceptible to interference. Massive MIMO gets round this because the system uses huge numbers of receiver transmitters to allow for a variety of paths for the signal to travel to circumvent obstructions. So you can see it is an infrastructure heavy which in turn increases power demand. Massive MIMO also allows for beam-forming capabilities, a controversial functionality partly because it is untested in a civilian context.
When taking this into account, 5G would consume 3-3.5 the power of 4G per base station or the equivalent of 73 homes in the UK. On top of this, they are planned to be far more in number than previous generations, their intended use is almost limitless so the devices utilising the signals and signalling back will be huge in number too. Huawei state: "Currently energy use accounts for the majority of network costs". In the case of the largest operators' overall energy usage it approaches 90% or more. BT is the joint-largest private purchaser of electricity in the UK.
Each 5G mast can consume up to double the energy of 4G masts (it could even be triple depending on the number of channels used) and are planned to be far more in number than previous generations, their intended use is almost limitless so the devices utilising the signals and signalling back will be huge in number too. Huawei state: "Currently energy use accounts for the majority of network costs". In the case of the largest operators' overall energy usage it approaches 90% or more. BT is the joint-largest private purchaser of electricity in the UK.
The battery life of 5G devices will be shorter due to the greater energy they require compared to those that support previous generations.
The High Council on Climate published its report "Controlling the carbon impact of 5G" in December of 2020. The HCC report found that 5G technology could add between 2.7 to 6.7 million tonnes of CO2 equivalents per year by 2030.
The report states the following (translated into English) "16.5 TWh required by the "5G specification" [this is a near-full deployment] variant compared to the "non-deployment LOW" variant in 2030 correspond to the annual average production of about 3 nuclear reactors of 900 MW each, and to the domestic electricity consumption of 1.1 million French households"
The report also says there have been insufficient evaluations into the theoretical positive impact of 5G on the environment, such as a decrease in transport demand, improvements in energy efficiency (smart meters), etc
image source: nature.com 13/09/2018 https://www.nature.com/articles/d41586-018-06610-y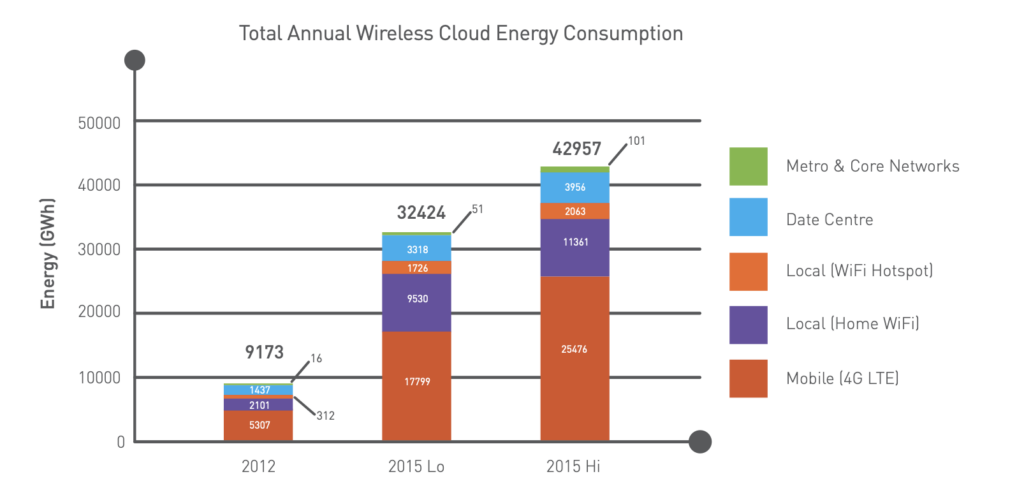 Climate expert Professor Mike Berners-Lee says that with energy efficiency, 'total outputs go up not down.' Efficiency improvements on their own don't help us. They only help us if we constrain the inputs.' This is AKA: The Jevon's paradox, named after the economist who made the link between increased technological efficiency and greater use. An example of this is our current experience with LED lights. Cheaper cost and more efficient lights (which also use rare earth material for their phosphors) have not lead to anticipated energy savings due to greater use. This trend/ "rebound effect" relating to use of artificial light has been empirically shown to be consistent over a period spanning 3 centuries and 6 across continents.
Similarly, although the 5G-new-radio standard is more energy efficient per gigabyte than are the 4G standards, the proposed 5G use cases and new spectrum bands will require many3 more mobile sites, outstripping potential energy efficiencies. The governments' Smart City agenda would be the biggest driver of this. It's not driven by the consumer.
"In fact, human societies do not have an urgent need for 5G," said Huawei's founder and CEO, Ren Zhengfei, "What people need now is broadband, and the main content of 5G is not broadband."
For some time now, energy used by data centres and the resulting emissions has been equivalent to that of air travel.
Apart from the servers, there is a need for air-conditioning and back up banks of lithium batteries.
Due to their vision for 5G- internet of things (IoTs) interconnecting to collect, transmit and store our data to enable the emergence of smart cities, Government not the consumer is driving demand for energy and resources using tax-payer money.
It's already impossible to imagine the vast quantity of real-time data currently collected in data centres. On top of this, 5G will support AI to continually find, check and refine relationships between this data. This complexity requires greater processing power hence more energy and mining of rare materials that go into servers and the profusion of IoTs.
Silicon Chips – had you any idea what energy is consumed making them ?
Pure silicon is not found in nature. Producing it requires a series of steps that guzzle electricity and generate greenhouse gases (GHGs) and toxic waste. Maybe you have an image of a high-tech, clean, quiet, air-conditioned laboratory facility, but the reality of producing electronics grade silicon is quite different.

In an update to a 2016 peer-reviewed study, Swedish researcher Anders Andrae says the internet of connected things (IoCT) industry's power demand is likely to increase from 200- 300 terawatt hours (TWh) of electricity a year in 2017, to 1,200-3,000TWh by 2025.
The battery life of 5G devices will be shorter due to the greater energy they require compared to those that support previous generations.
The devices will all use silicon microprocessors
Does the public really want this fine-detail, bulk data collection about them continually collected, stored and interrogated? How would it affect behaviour, especially for children growing up with this fine-grain data collection being their norm? This works against any efforts made towards supporting strong healthy and vibrant communities- the social dimension of sustainability. The mental health implications could be huge.
The Government is using tax-payers' money to fund the 5G R&D in university test-beds (the most risky phase of an investment). Then making policy to create the market for the technology which it is encouraging telcos to enter. The taxpayer will not profit despite providing the money to make the very thing that will collect their data and surveil them possible. In the meantime laws are also being created so the public and local public bodies have less say in the deployment of 5G infrastructure.
There are other choices and visions, fibre I contend is the best. Fibre to the home/premises is safe, cheaper, less energy hungry, faster, provides more bandwidth and is more secure and private. It doesn't lend itself to fine-grain data collection and therefore storage by having a ubiquity of devices linked to the connection. There is also no need for lots of big energy hungry masts in our neighbourhoods. It would result in less use of energy, and less emissions of both gas and man-made radio frequency radiation (RFR).
Claims of net-zero by corporations, is based on the omission of data. By buying renewable energy credits (RECs), electricity from the fossil fuel producer is recorded as sourceless "null" energy, effectively scrubbing energy use and greenhouse gases emitted during its production from the record. RECs are how companies like Google and Microsoft can claim their data centers are powered 100 percent by renewables while still being connected to grids that use fossil fuels. In reality, only a fraction of each company's energy comes directly from solar or wind installations; the rest comes from RECs.
The Green Parties in California, France and Spain have taken a stand against further deployment of 5G infrastructure, to halt the dangers of runaway energy consumption and C02 emissions.
3. Trees, wildlife and health
As mentioned previously, some of the spectrum 5G uses for instance millimetre wave (MMW) frequencies are easily obstructed and don't travel far so need the help of Massive MIMO. Plants and particularly trees block the signal, especially when leaves are wet. The aim is to have complete coverage so many trees would need to be culled for this aim to be met. This means for example, many plants and trees beside smart motorways/smart railways would be cut as has already happened.
In the 2017 Autumn Budget, the Government announced an investment of £35 million to install trackside fibre and 5G network infrastructure along the Trans Pennine route between Manchester, Leeds and York. Network Rail target was to cull 10 million trees, the stated aim is to prevent branches leaves from falling on the track. The Guardian reported on the culling in 2018: In the article a James Graham, from Manchester, said he saw thousands of trees being felled along a 10-mile section of the trans-Pennine route from Manchester to Leeds. "I know they have to manage the trees, but this was excessive," he said. "It looked like some kind of logging operation. I was sitting in the train and looking out at the countryside and all you could see was mile after mile of tree stumps and sawdust. They had felled trees which were a long way from the track. It was extreme."
Much of the felling took place in other 5G test-bed locations like Bournemouth. Ordinance Survey provided information on Bournemouth's geography and related it to how 5G signals would spread optimally within it. In light of this, we need to ask whether it is credible this vast cull is to simply prevent leaves and branches from falling on the track?
Millimetre waves (MMW) and beam-formed electromagnetic radiation (EMR), with the associated levels of pulsation has never been used in a civilian context before, nor have any tests been done in the public domain for its effects on the health of wildlife, plants and people.
More studies are needed to look at the effects on 4G, 4G LTE and 5G on trees, wildlife and health. This is why politicians who have had hearings with scientists and Telcos repeatedly conclude the precautionary principle needs to be applied to this tech. This is also why 5G is not insurable. Why is the government investing so much of our money investing in technology spanning the country when it is uninsurable?
The most recent panel on 31/05/2021 was held by MEPs who heard reports from scientists analysing a range of studies on 5G and the effect on health of people, animals and plant life. The MEPs were in agreement with the Council of Europe Resolution 1815 which favours invoking the precautionary principle and notes there is a "lack of reaction to known or emerging environmental and health risks and virtually systematic delays in adopting and implementing effective preventive measures. Waiting for high levels of scientific and clinical proof before taking action to prevent well-known risks can lead to very high health and economic costs, as was the case with asbestos, leaded petrol and tobacco."
The material for the judicial review on 5G concerns has been prepared (1000 page bundle). We hope that the Supreme Court goes ahead with it. One of the barristers and her assistant became electrosensitive through their research, it included visiting homes subject to high levels of radio frequency radiation (RFR). The barrister had to take 2 weeks off to recover, her assistant had to leave her job. Man-made EMR also needs to be considered a pollutant.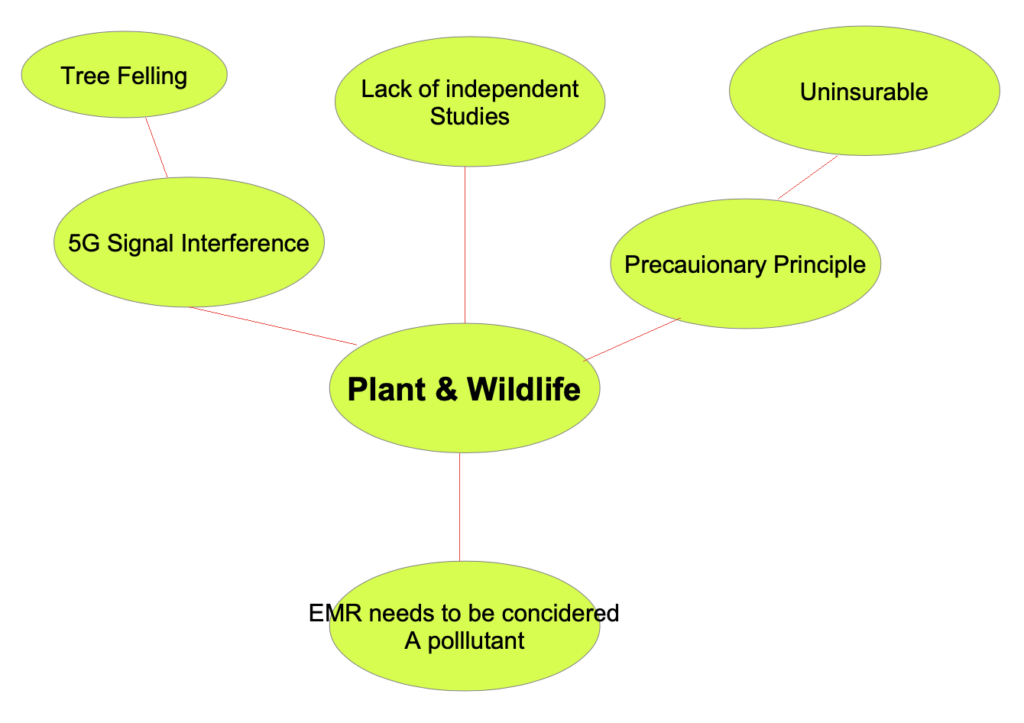 4. Extraction of Resources and Disposal of 5G related Tech
Mining of cobalt, nickel, lithium, manganese and platinum (hence the huge number of thefts of catalytic converters in EV/Hybrid cars) amongst other things is dangerous and toxic environmentally,
Automated cars and smart motorways will be connected to 5G. Automated cars, like EV cars today are envisaged to use lithium ion batteries, also used to back up 5G infrastructure like data centres. Electric cars are more complex to produce, with more complex supply chains and disposal issues. Again, use of rare minerals.
EVs also have high induced magnetic fields, electric fields, and RF from the bluetooth and other functions.
Petrol/Diesel cars have been recycled for many years, most of a car can be re-used. BMW pioneered this. Even the lead acid batteries are recycled and it is not that expensive. The main issues are ensuring oil does not leak and get into the groundwater also the reuse of plastics, it can be done (pyrolysis) but in a degraded form. Tools exist to clear a vehicle of oil when scrapped and it's not complicated.
EV cars can also be recycled in the same way but when it comes to their batteries things become much more hazardous especially of terms of fire risk and toxicity. They can still be recycled, it's more energy intensive, complicated, and therefore costly – see picture below.
In terms of EV/non-EV/hybrid and sustainability it is hard to say which is better. Things are not being analysed in terms the whole life-cycle. Government incentives and marketing suggest EV is better environmentally but it doesn't therefore follow that this is the case. We need to look deeper.