In a nutshell
5G is a protocol that will use high frequency bands and extensive bandwidths of the electromagnetic spectrum in the vast radiofrequency range from 600 MHz to nearly 100 GHz, which includes millimeter waves (>20 GHz), in addition to the currently used third generation (3G) and fourth generation (4G) long-term evolution (LTE) microwave bands.
Currently the UK 5G service upgrades use a similar spectrum to 3/4G (FR1 sub 7Ghz), but does also used phased array (directional/MIMO) antennae and modulation. Future 5G aims to use the mmWave spectrum (FR2 to be auctioned above 7Ghz and above 26Ghz).
The fundamental concerns about this step change in capacity and scope are about health, environmental impact, freedom and security.
OFCOM TO RELEASE NEW MMWAVE SPECTRUM FOR AUCTION
The range of a 5G cell tower is 1 to 3 miles (1.6 to 5 kilometers) when transmitting low- and mid-band spectrum. The range of a 4G LTE cell tower is 2 to 4 miles (3 to 6.5 kilometers) when transmitting low- and mid-band spectrum.
Worldwide 5G coverage: https://www.nperf.com/en/map/5g
UK spectrum map, type your search terms: http://static.ofcom.org.uk/static/spectrum/map.html
Check 5G networks in your area: https://kenstechtips.com/index.php/5g-network-coverage
Check worldwide deployment: speedtest.net/fr/ookla-5g-map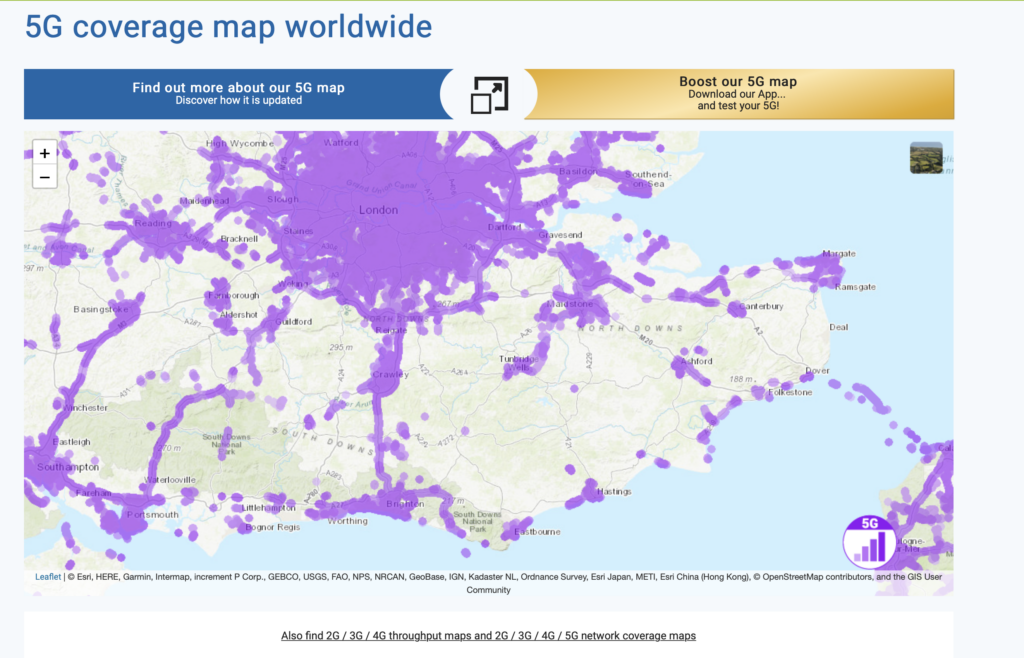 2021 Evidence for a connection between coronavirus disease-19 and exposure to radiofrequency radiation
Environmental factors are always part of the Triad of disease. Is there any impact from extensive RFR emissions and CV19 ? This recent study is deeply comprehensive and well considered. The symptomology of each overlap tremendously. This is not to say that CV19 is caused by RFR, the main causes are known, but we can see that clearly the impact of BOTH toxins on biological systems can be a perfect storm:
https://www.ncbi.nlm.nih.gov/pmc/articles/PMC8580522/
2021 Commonalities Between COVID-19 and Radiation Injury
As the multi-systemic components of COVID-19 emerge, parallel etiologies can be drawn between SARS-CoV-2 infection and radiation injuries.
https://pubmed.ncbi.nlm.nih.gov/33064832/
What is 5G actually for ? acc. International Telecoms Union:
In more detail
The scientists and doctors in the EU who wrote the 5G Appeal state: "5G signifies '5th generation' wireless technology. It is said to provide faster and higher transmission capacity. It's suggested uses include the Internet of Things (IoT), driverless cars, and faster video streaming."
It is important to distinguish between different stages of 5G implementation, these have been termed for this web page as 4G+ and mmWave 5G. Although the risks from the technology are broadly similar, It is really important to understand the distinction between the two stages when discussing or campaigning for clear disclosure about the impact of telecoms installations.
According to filings with the FCC, the LEO (low earth orbit) satellites will broadcast in the Ku (12- to 18-gigahertz) and Ka (26.5- to 40-GHz) spectral bands, which are typical bands for communications satellites. The VLEO satellites, however, will make use of the V band, a higher frequency band ranging from 40 to 75 GHz
https://www.speedtest.net/fr/ookla-5g-map
https://kenstechtips.com/index.php/5g-network-coverage
Common Radio Bands for Wi-Fi and Mobile
Wi-Fi = 2.4GHz, 5GHz, 6GHz
Mobile (2G – 4G LTE) = 700MHz, 800MHz, 900MHz, 1800MHz, 2.1GHz, 2.3 GHz, 2.6GHz, 3-4GHz
4G+ consists of implementations for mobile networks at frequencies below 6 Ghz, and supports the current expansion of the 4G and 4G LTE (long term evolution) networks. Using various multiplexing techniques (ways to stack and carry data) a lot more data can be carried within the current licenced spectrums.
mmWave 5G uses mmWave frequencies in the spectrum between 24-300 GHz. 26-28Ghz is already in use to connect 4G masts wirelessly. For more information on the use of 60GHz see working notes for 60GHz
Read this article for a very thorough and more in depth discussion: 4G, Fake 5G, Real 5G – know the differences.
Please note that In this webpage instead of 'Fake 5G' we use the term 4G+, and 'Real 5G' we call mmWave 5G.
The mmWaves do not travel easily through obstacles such as trees, rain, buildings etc therefore mmWave 5G will require millions of new "small cell" antennas to operate effectively.
5G mmWave signals will be sent from advanced antennas called phased arrays that transmit in narrow bands. Handheld devices will also need multiple transmitters to overcome 'body blocking'.
Concerns about 4G+: although most of the current '5G' expansion is using the traditional Mobile spectrum up to around 3.6GHz, to vastly increase capacity – arguably as a simple response to supply and demand – this is increasing the density of electromagnetic pollution, called 'electrosmog'. It still uses beam forming and complex modulating techniques.
For an amazing in depth article: 5G will unleash a colossal public health nightmare
4G+ and 5G use NOMA: (Non orthogonal multiple access) a power coding scheme that allows use of the same frequencies side by side, modulated by power (really clever, but creates strong beams).

In urban outside space it is very normal to find background levels of 1-6 V/m. For context, proposed safe levels should be around 0.1 V/m, however the 'official' ICNIRP guidelines are still set at 56 V/m (for more information on safe levels see here)
The concern about electrosmog is over health, from chronic long term exposure to this bio-active non-ionising radiation. There is also tremendous concern about its impact on the environment see here.
Concerns about mmWave 5G: once we enter the mmWave spectrum and the capacity of this level of data transfer the concern moves from not just health but also to the implications for Privacy, Security and Freedom.
Is it just about faster phones?
No – though that's undoubtedly the short-term hook to attract subscribers.
One of the biggest long-term benefits of 5G will be the ability for mobile networks to provide more connections at once.
In theory, 5G will be able to simultaneously support more than a million devices per sq km (0.4 sq miles), a big jump over the 60,000-odd devices that 4G technology maxes out at.
But to make this possible, antennas will be needed all over the place – from lamp-posts to bus shelters, in addition to more of the rooftop masts we're already used to.
These in turn will support hundreds of thousands of data-capturing sensors that will allow the authorities and businesses to gain deeper insights about behaviour and provide "smarter" services.
So, while 4G made it possible to start controlling internet-connected devices from afar, 5G should enable a multitude of machine-to-machine communications, allowing decisions to be made for people rather than by them.
Technology analyst Stephanie Hare says: "5G will make our physical world go from 'dumb' to 'smart'.
"It raises questions about how much choice and agency we will have, as companies and governments will have more information with which to target messages and options to us. The risk is we wont be able to opt out."
https://www.bbc.co.uk/news/technology-48426481
Health
A substantial and convincing amount of scientific studies show many adverse health effects and health hazards from radiofrequency/microwave radiation. See our Resources page.
Warning from former president Microsoft Canada, Frank Clegg. 10mins
A new survey by Deloitte found that the average American household contains 25 different wireless devices
There are smart phones, iPads, Kindles, wifi modems and routers, range extenders, wireless computers, wireless printers, wireless keyboards, wireless mice, wireless speakers, wireless headphones and earpieces, wireless garage door openers, wireless door locks, wireless doorbells, wireless baby monitors, wireless surveillance cameras, wifi video cameras, wifi digital photo frames, smart thermometers, smart thermostats, smart yoga mats, smart indoor lighting, smart security systems, voice controllers, gesture controllers, smart buttons, smart alarm clocks, smart air quality monitors, smart smoke and carbon monoxide detectors, smart navigation systems, connected exercise machines, fitness trackers, sleep trackers, location trackers, blood pressure monitors, heart rate monitors, smart appliances, controllers of smart appliances, ibeacons for home automation, smart ovens, smart irrigation systems, wireless garden sensors, Click and Grow Herb Gardens, smart grill thermometers, smart sprinkler controllers, smart air conditioners, smart TVs, video streaming devices for TVs, wireless gaming consoles, wireless leak detectors, smart watches, smart bracelets, smart air purifiers, smart home vent systems, remote pet feeders, smart light bulbs, bluetooth-connected espresso machines, and bluetooth-connected cookers.

Every one of these devices emits radiation. Every one of these devices, if you have it on your person or in your home, irradiates you and your family and your pets and your neighbors and the birds and bees and animals outside. This situation did not exist at all just 25 years ago and it must stop if we are to have a world to live in much longer. It is not necessary for a phone, computer or anything else to be wireless instead of wired in order for one to communicate and interact with the world.
Environment
The energy needed to carry and process the data will be enormous, the further effect on wildlife from blanketing electrosmog, the embodied energy and disposal of the vast infrastructure, including back up battery packs – are all of huge concern.
Smart tech's carbon footprint, The Ecologist, Matthew Barton 2020
Privacy and freedom
With current 4G systems the Platform or 'matrix' is accessed, voluntarily through our phones. With Real 5G the platform will exist outside of us, we will swim in the matrix whether we choose to or not:
High ranking official in US Air Force Brigadier-General Robert Spalding
'With 5G, there is no opting out' 9mins
Concerning security, there are clear concerns about the risks of backdoor access and co-opting of the network by 'enemies of the state', with dramatic consequences since all critical systems will depend on these networks.
PM Boris Johnston speech to 74th session, United Nations Assembly Sept 2019
mmWave 5G is not about cell phones, it is about mega data, the IOT and the capacity for total surveillance and control.
Total Data Domination: 5G, IoT, AI Surveillance And The Smart City
• You can read another good overview of what the elements of 5G are here.
"Children should not be put at increased risk of developing cancer"

Dr Carpenter, director, University of Albany, NY
http://www.wifiinschools.org.uk/resources/Carpenter+letter+Feb2011.pdf